In this section we shall be sharing with you news that have been published by mgi worldwide not only globally but also those specifically related to the Latin American Area.

Strong relationships within the MGI Worldwide accountancy network help MGI Latin America members make a new start
In the first of several stories about cooperation and assistance between MGI Worldwide global accounting network firms, Ricardo Ruiz Managing Partner at Venezuela-based MGI P&P Asociados, tells us of the case of Josefina Maldonado who, having to move from Venezuela to Argentina, found work at MGI Jebsen & Co., in Buenos Aires.
Due to ongoing problems in Venezuela, Josefina – a former human resources manager at MGI P&P Asociados – was forced to leave her country and move to Argentina. MGI P&P Asociados reached out to colleagues at MGI Jebsen & Co. in Buenos Aires, sending Josefina's CV and a letter of recommendation, and requesting help in finding her a job in that country. Josefina received an invitation to an interview, and after completing the necessary formalities, was offered a position in the outsourcing accounting department at MGI Jebsen & Co.
Positive results for all concerned
Rafael Faillace, Partner at MGI Jebsen & Co. explains, "Josefina adjusted quickly to both the work method and pace at MGI Jebsen & Co. She quickly learned how to use the local accounting software, which she already manages, and she now interacts directly with clients. She is very organized and has a great ability to perform new tasks. For us, this has been a very positive experience. Josefina's good character and strong work ethic have allowed her to fit in well within our diverse team."
Speaking on behalf of member firms in Venezuela, Ricardo expresses his gratitude for all the support that has been given by fellow MGI Worldwide accountancy network members during this difficult period.
MGI Jebsen & Co. provides a summary of the Argentinean tax reforms
MGI Latin America member MGI Jebsen & Co. has provided a summary on the incoming tax reforms in Argentina to help fellow members of the MGI Worldwide international accountancy network understand the new set of laws.
At the end of October, the Argentinean government announced significant reforms to tax legislation in the country, which will have a profound effect on firms conducting business in the Argentinean market.
The summary, available in both English and Spanish, explains the main points of the Argentinean tax reforms, which are set to include a reduction in income tax, lower tax being applied to bank debits and credits, reducing the impact of the tax on property transfer and reductions to provincial tax.
There are also proposed changes to VAT, internal revenue taxes and turnover tax, all of which are outlined in MGI Jebsen & Co.'s summary.
The Argentinean government hopes the changes will lead to increased compliance with fiscal targets, fewer instances of tax evasion, greater opportunities for development and an overall more modern, efficient and equitable tax system. It also believes the reforms will help to promote investments, quality employment and business competitiveness throughout the country.
MGI Jebsen & Co. attending the MGI's Global - 70 Anniversary
Attending the MGI's Global Annual General Meeting and 70 Anniversary celebrations, held in Frankfurt / Germany
From 18 to 20 October 2017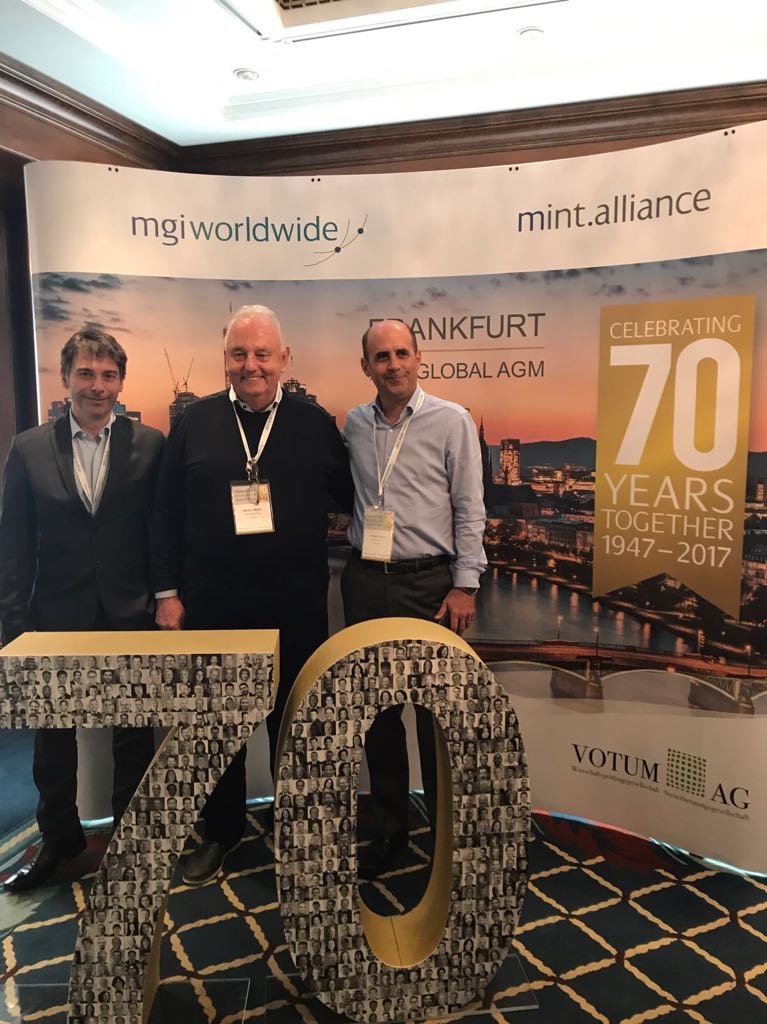 Dr. Luis Uncal, Dr. Martín Jebsen y Dr. Rafael Faillace – Partners of Jebsen & Co.
Argentina economy open for business - 14th January 2016
Join MGI WorldwideFollowing the election of new president Mauricio Macri, major economic reforms are underway in Argentina that are opening the country up to international markets.
Among the biggest changes are the free float of the Argentine peso and a new import mechanism, which took effect in December.
Buenos Aires based MGI Jebsen & Co. has published English-language summaries of the reforms, which are just the beginning of the new president's efforts to jumpstart the economy and boost international trade.
The first looks at a new set of easier import regulations that replace the controversial and disliked Declaración Jurada Anticipada de Importación (DJAI) mechanism – the Prior Sworn Import Declaration.
In its place is the Comprehensive System of Imports Monitoring – the Sistema Integral de Monitoreo de Importaciones (SIMI), which the new government hopes will boost foreign trade.
The second summary from MGI Jebsen & Co. details the looser foreign exchange rules, which started with the free float of the peso but has much wider implications for businesses inside and outside Argentina.
The unshackling of the peso is accompanied by the loosening of restrictions around foreign exchange dealings and overseas income.
Interview to Luis Uncal during the Annual General Meeting of MGI, held in London/UK - October 2015